Little Change in Tight Iowa Republican Race; Early Weather Forecast Looks Mostly Benign
By 270toWin Staff
January 26, 2016
Donald Trump and Ted Cruz remain locked in a tight battle six days before the February 1 Iowa caucuses, a new Quinnipiac University poll found. These results are virtually unchanged from Quinnipiac's prior poll released two weeks ago.

Overall, Trump holds about a five point leader in the 270toWin Iowa average, with much higher volatility across pollsters, ranging from a two point lead for Cruz to an eleven point lead for Trump. Rubio has been consistent in the low teens, and looks likely to finish third.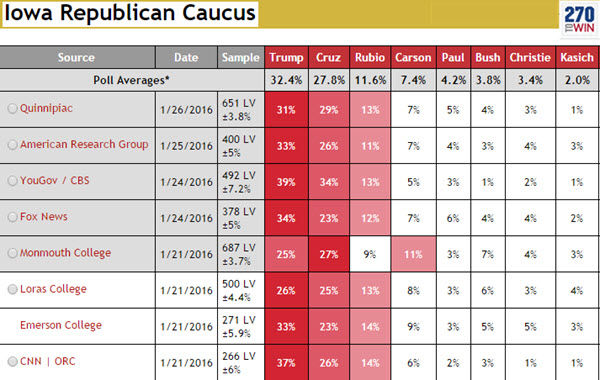 Weather
Part of the reason the Iowa polls are so varied is that the caucus format is difficult for pollsters to model; much depends on which organization does the best job at getting its supporters to the caucus sessions. One area that impacts turnout is the weather. At this point, the National Weather Service is showing pretty benign weather for next Monday. Des Moines shows mostly cloudy, with a high of 34, while the Cedar Rapids forecast is for a slight chance of snow with a high of 33. These highs are close to the average for early February.
comments powered by

Disqus
Headlines