A Tale of Two Polls: Who Leads in Iowa?
By 270toWin Staff
December 7, 2015
Earlier today, we cited a Monmouth University poll that showed Ted Cruz had taken the lead in Iowa; although we did note that Trump maintained a small lead in the Iowa polling average.
A CNN | ORC Iowa poll out this afternoon paints a completely different story than the Monmouth University poll. While this poll also showed a large gain for Cruz and decline for Carson vs. the prior CNN | ORC survey, both remained well back of Donald Trump, who showed 33% support. That is a high-water mark for Trump in any Iowa poll conducted thus far.
The CNN poll was conducted from November 28 to December 6, while Monmouth did their survey from December 3 to December 6. The San Bernardino terrorist attack took place on December 2nd, so Monmouth's poll was conducted entirely after that. One would think Trump's numbers would improve or at least be steady after that incident, so the sampling dates don't seem to explain what is a huge difference between these two polls.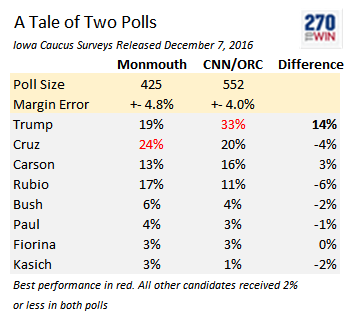 comments powered by

Disqus
Headlines