Carson Bumps Trump from Top Spot in Latest National Republican Poll
By 270toWin Staff
October 27, 2015
It's just one poll, and the result is within the margin of error, but Ben Carson comes out on top in the latest CBS News / New York Times poll of 2016 Republican candidates. Carson received 26%, while Trump saw 22% support. Aside from one poll at the beginning of October (that was an outlier compared to others at that time), Trump has led every national poll since the middle of July. The real estate investor maintains a 4.8% lead in the 270toWin polling average.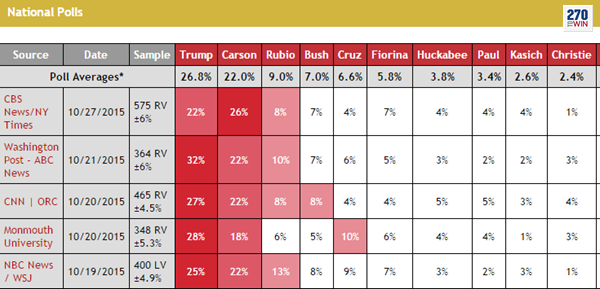 Is this new poll another outlier, or a start of a shift? Only time will tell. Carson has taken a more definitive lead in recent Iowa polls, but is not making much headway against Trump in New Hampshire polling. We may be seeing a voter split between states, depending on the composition of the population. Iowa has a much larger percentage of evangelical voters. Given that, it is worth pointing out, as we have done before, that while the national polls are interesting, they are irrelevant in that the choice of a nominee will emerge from individual state primary and caucus events. Iowa and New Hampshire kick off the 2016 election calendar next February.
Returning to the CBS/NYT poll, no other candidate saw over 10% support, with Rubio, Bush and Fiorina filling out the top 5 at 7-8%. Interestingly, Ted Cruz received only 4% support in the poll; he's usually a few points higher. Given their appeal to many of the same voters, it is possible that at least some of Carson's gain could be coming at the Texas Senator's expense.
comments powered by

Disqus
Headlines