New Swing State Polls Shows Republican Field Fluid; Preference for Local Pols
By 270toWin Staff
April 2, 2015
An April 2 Quinnipiac poll for the general election battleground states of Florida, Ohio and Pennsylvania show that the Republican nomination remains wide open. Preference for home-state political figures (or perhaps it is just name recongition) was a significant influence in the results. For example, former Governor Jeb Bush sees almost 25% preference in Florida, but can't crack double-digits in the other two states.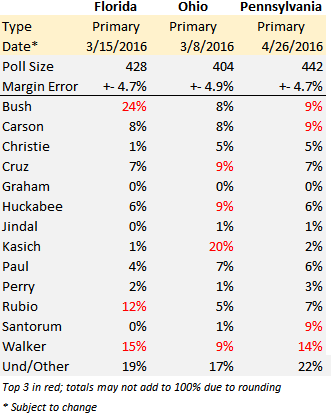 Florida: Former governor Jeb Bush leads with 24% of the vote with Senator Marco Rubio in 3rd at 12%. Wisconsin governor Scott Walker is in-between, with 15%. These results are similar to those seen in last week's Public Policy poll. Rubio is scheduled to announce his 2016 plans on April 13.
Ohio: Senator John Kasich garnered 20% of the vote; the only candidate to crack double-digits. Kasich has gotten little support in other polling, but his popularity in this critical general election battleground could become important. No Republican has ever been elected president without winning Ohio.
Pennsylvania: Walker was the only prospective candidate with double-digit support here, and the only one to finish in the top three in all three states polled. Former Senator Rick Santorum tied for second at 9%. Santorum has gotten little support elsewhere.
Quinnipiac also polled the Democratic field in these three states. Hillary Clinton's support ranged from 48% in Pennsylvania, to 54% in Ohio, to 65% in Florida. While Clinton is clearly ahead, this wide variation in support for the presumptive (if she runs) nominee might be something to monitor.
comments powered by

Disqus
Headlines