No Suspense: We Already Know the Party Winners for 77 House Seats
By 270toWin Staff
October 31, 2014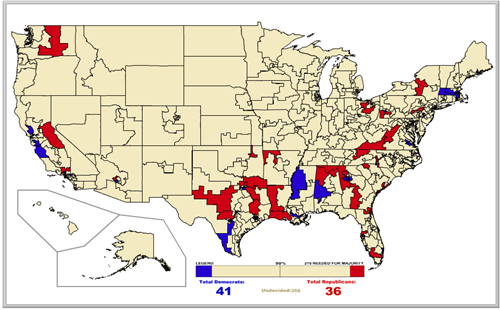 Almost 1/5 of the 435 House seats will go uncontested between the two major parties this November based on an analysis by 270toWin. (Underlying data here) 41 are held by Democrats, 36 by Republicans. These seats fall into 3 categories:
Uncontested: 32 seats (16 Democrat, 16 Republican) are completely uncontested. This includes 7 of Georgia's 14 Districts and 6 of the 9 in Massachusetts. The incumbent is running in 30 of these races: Phil Gingrey (R) GA-11 opted to run for Senate, while Ralph Hall (R) TX-4 was defeated in his party's primary.
No Major Party Opposition: 37 seats (20 Democrat, 17 Republican) pit one major party against one or more 3rd party or independent candidates. While acknowledging that the election hasn't yet occurred, none of these appear to be competitive races. (Two of these districts, LA-2 and LA-3 have multiple candidates from the major party as well as 3rd party/independent opposition, owing to the open primary that will take place on Election Day).
Both Candidates From Same Party: 8 seats (5 Democrat, 3 Republican). 7 of these are from California, 1 from Washington. These states hold 'top two' primaries, where the top two vote getters advance to the general election, regardless of party.
Data for this review was gathered from and is courtesy of The Green Papers and Wikipedia. If we've missed anything, please let us know.
comments powered by

Disqus
Headlines