2004 Presidential Election
2004 Election Results
| | | | | | | | |
| --- | --- | --- | --- | --- | --- | --- | --- |
| | Candidate | | Party | | Electoral Votes | | Popular Votes |
| | George W. Bush (I) | | Republican | | 286 | | 62,039,073 |
| | John F. Kerry | | Democratic | | 251 | | 59,027,478 |
The United States presidential election of 2004 was the United States 55th quadrennial presidential election. It was held on Tuesday, November 2, 2004. Republican Party candidate and incumbent President George W. Bush defeated Democratic Party candidate John Kerry, the then-junior U.S. Senator from Massachusetts. Foreign policy was the dominant theme throughout the election campaign, particularly Bush's conduct of the War on Terrorism and the 2003 invasion of Iraq.

As in the 2000 presidential election, voting controversies and concerns of irregularities emerged during and after the vote. The winner was not determined until the following day, when Kerry decided not to dispute Bush's win in the state of Ohio. The state held enough electoral votes to determine the winner of the presidency. Both Kerry and Democratic National Committee Chairman Howard Dean have stated their opinion that voting in Ohio did not proceed fairly and that, had it done so, the Democratic ticket might have won that state and therefore the election. However, there was far less controversy about this election than in 2000.1
Change History!
Try out the
2004 interactive map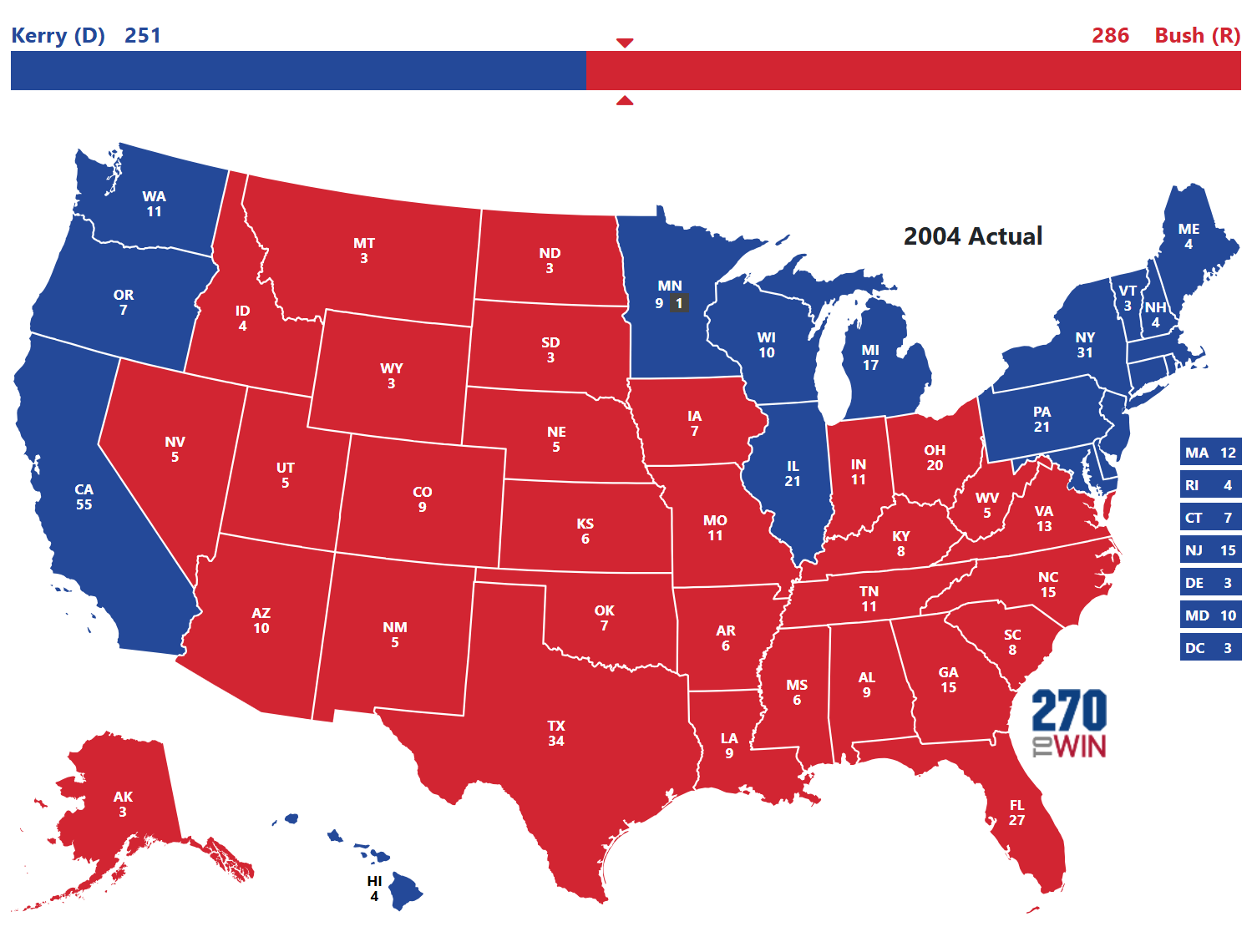 2004 Election Facts
Kerry won Minnesota; however one Elector cast a vote for Dem. Vice-President candidate John Edwards. It may have been unintentional, as this ballot also voted for John Edwards as Vice-President
Bush and Kerry each received more votes than any candidates in history to that point. The prior record, about 54.5 million votes, was set in 1984 by Ronald Reagan
Electoral Vote changes for 2004 based on 2000 Census: [+2: AZ, FL, GA, TX], [+1: CA, CO, NV, NC],
[-1: CT, IL, IN, MI, MS, OH, OK, WI], [-2: NY, PA]
Issues of the Day: Terrorism, Iraq War, Job growth
Margin of Victory Map
This map is shaded by how large the popular vote difference was between the two nominees. It is a way to view the relative competitiveness of each state. These maps are also available as a timeline for each election from 1972-2012.